Strong Customer Authentication via GG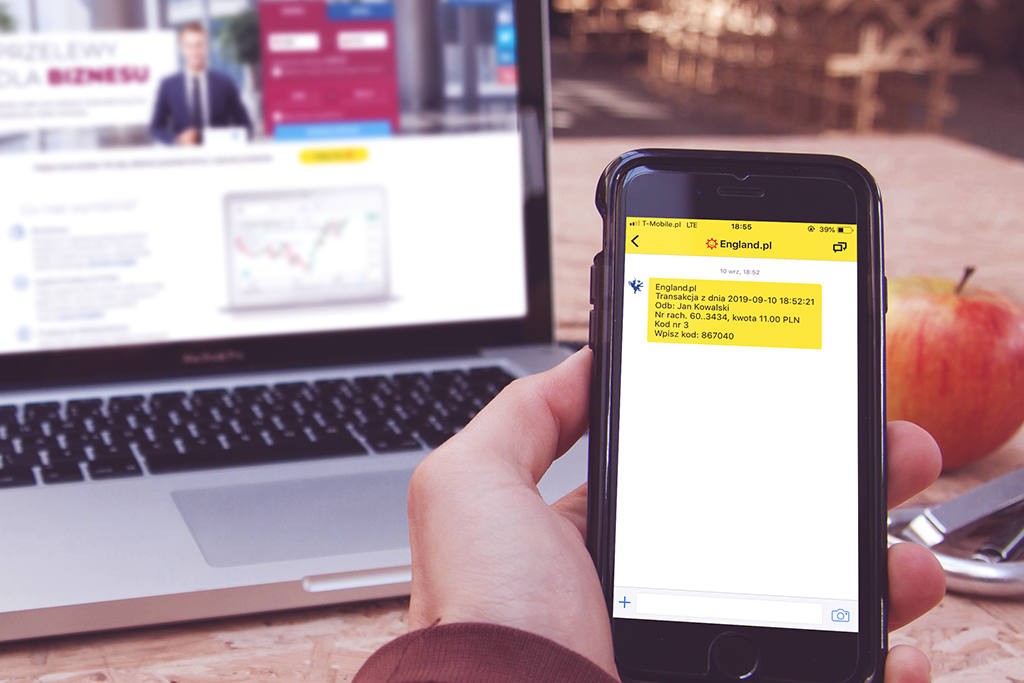 Dear Customer,
On 14th September 2019, the EU Directive PSD2 (Payment Service Directive) goes into force, introducing new rules for the protection and security of your payments; providing protection against mistakes, access to data or even loss of funds.
As a financial institution, Fintecom Sp. z o.o. in Poland, trading as England.pl is required to comply with the provisions of the Act and adapt its activities to the new regulations, to include the introduction of secure authentication, i.e. two-stage verification when logging in or completing transactions. Resulting in a higher level of protection for your funds and reducing the risk of fraud.
With a focus on the statutory regulations and increasing the security of your money, we have prepared a special authorisation tool for you within the GG application.
What do you gain by installing the free app of the most popular Polish messenger, GG?
You get:
a convenient tool to quickly receive notifications about the completion of your transfers,
at your request, we will also notify your chosen recipients about the completion of the transfer for free via GG,
a secure tool for two-step logging and transaction verification to increase the protection of your funds,
approachable and even faster interaction with our consultants,
additional benefits that the new version of the messenger will soon offer.
Remember!
You don't have to use the GG application as a messenger, and you don't have to receive any messages except authorisation codes.
The application can be used only to receive notifications of transfers and transaction authorisations.
In GG, you decide how you want to communicate.
We will gladly answer all of your questions.
We encourage you to download the free GG app today
Download GG

What will change?
The login method will change
In addition to the username and password, we will soon ask you to enter a one-time code that we will send you via the GG messenger.
The acknowledgement of transaction will change
The one-time code sent via GG will also be required to approve payment transactions and in the future also other safety-relevant activities.
Secure authentication
Log in (email address plus password) or confirm your transaction as normal.
Approve the login details or the payment transaction ordered using the code received in your GG app.
Once your data and the GG code are verified, we gain confidence that you are the person completing these activities.
Learn more about Strong Customer Authentication (SCA)
Strong Customer Authentication is two-step verification, which is supposed to provide a higher level of credibility and fraud resistance; meaning verification based on the use of at least two elements belonging to the following categories:
knowledge (something that only the user knows, e.g. a password),
possession (something that only the user has, e.g. telephone or one-time code)
customer characteristics (something specific to the user e.g. biometrics face).
The latest PSD II regulations impose an obligation to comply with procedures that require a minimum of two elements to confirm the identity of customers and the payment transactions they complete. That is why, prioritising your security, we introduce secure authentication. This way we can protect you from mistakes or even loss of money. This will prevent unauthorised persons from accessing your account.
Secure authentication is an additional safeguard. For example, if someone knew and tried to use your login details (username and password), they would also need access to your phone with the GG messenger installed, to which we will send a one-time verification code. In turn, at the conclusion of the transaction, you will receive a one-time code along with the information of their transaction e.g. the recipient's name, account number, amount sent.
The secure authentication we use will work very much like the previous logging in and transactions process. The only difference is entering an additional one-time code, which will be sent to your GG account each time. All codes will be sent from designated GG numbers only, i.e. 8000 and 8001.